Elevators are not cheap and can cost thousands of dollars depending on the number of floors to service and the quality and make. That is why it is important to schedule maintenance activities that include checking electrical wires and connections, cleaning stainless steel elevator panels, and disinfecting the whole elevator unit. When taken cared of properly, an elevator can last 20 years or more.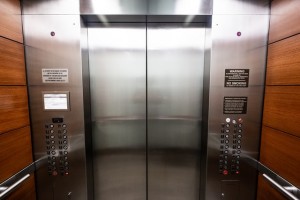 There are four types of elevators: traction elevators (which can be geared or gearless), hydraulic elevators, machine-room-less (MRL) elevators and vacuum elevators. The most common type is the traction elevator. It has an electric motor on the top shaft attached to a rope that can raise or lower the elevator. Most interiors are made of stainless steel, plastic, and glass. Care for these machines are pretty straightforward but utmost care is required. So here are three basic steps on how to clean a stainless steel elevator.
Step 1: Sweep, brush and vacuum
The first step is to secure and block off the elevator area to avoid any accidents. Make sure to use signages to remind people that maintenance and cleaning is ongoing. After shutting off the elevator, you can start the cleaning process. Use a brush to sweep dirt and other particles from the elevator floor. Follow it up with a vacuum cleaner. (It is important not to use brushes or any abrasives in cleaning stainless steel elevator panels.)
Step 2: Wash and mop
Using a microfiber towel or cloth, wipe the mirrors and panels following the grain direction of the stainless steel. You can see the direction of the grain by shining a light on the surface. Make sure that the microfiber cloth is clean and fresh. Again, do not use abrasives or material that feels rough. Because if damage is done, you might need to tell yourself, "I need to call a stainless steel restoration near me!" Make sure to mop the floor to end this step.
Step 3: Wipe and polish
The final step is the most important step. Again, using a clean microfiber towel, apply steel cleaning oil or spray the stainless steel surface with DY-40 anti-rust lubrication or stainless steel cleaner polish. You can try to use Goo Gone but it leaves a residue on the surface. Follow the direction of the grain in cleaning stainless steel elevator panels. For glass surfaces, glass cleaner sprays would suffice. After cleaning, you should see that the elevator's shine is restored. If you encounter any major difficulty, call a professional cleaning company.