Solar power panels, often known as solar panels, are becoming a common option for producing clean and sustainable energy. They provide a formidable way to unlock the full potential of solar energy when coupled with battery storage systems. To further understand how this technology might transform your energy demands, we'll examine the advantages of solar power panels and battery storage in this article. We'll also go into the installation process for solar systems and address some frequently asked issues.
Benefits of Solar Power Panels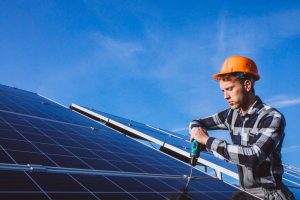 Solar power panels are designed to capture sunlight and convert it into electricity. They are a green energy source that lessens your reliance on fossil fuels and your carbon footprint. Solar panels' capacity to produce electricity quietly and without emitting dangerous gases is one of their main advantages. Additionally, solar panels, particularly in sunny areas, can considerably reduce your electricity bills by producing free electricity throughout the day.
Battery Storage Systems
While solar panels are excellent at generating electricity during daylight hours, they do not produce power at night or on cloudy days. This limitation is where battery storage systems come into play. These systems store excess electricity generated by your solar panels during the day in batteries, allowing you to use it when the sun isn't shining. Battery storage systems provide energy independence, reduce reliance on the grid, and ensure a constant power supply even during power outages.
Solar System Installation
The installation of a solar power system typically involves several key steps:
Site Assessment: A professional installer evaluates your property to determine its suitability for solar panel installation. Factors such as roof condition, shading, and local weather patterns are considered.
System Design: Based on the site assessment, a customized solar system design is created. This design includes the number of panels required, their placement, and the type of inverter and battery storage system that best suits your needs.
Permitting: The installer obtains the necessary permits and approvals from local authorities before commencing the installation.
Installation: Solar panels, inverters, and battery storage systems are installed according to the approved design. Wiring and mounting equipment are also put in place.
Connection to the Grid: If your solar system is grid-tied, it will be connected to the local utility grid. This allows you to sell excess electricity back to the grid and draw power when needed.
Final Inspection: After installation, a final inspection is conducted to ensure the system complies with safety and quality standards.
System Activation: Once the system is approved, it's activated, and you can start benefiting from solar power generation immediately.
FAQs:
Q1: How much do solar power panels cost?
A1: The cost of solar panels varies based on factors such as the size of the system, quality of panels, and location. On average, a residential solar system can cost between $10,000 to $30,000 before incentives and rebates.
Q2: What is the lifespan of solar panels?
A2: Solar panels can last 25 to 30 years or more. Most manufacturers offer warranties ranging from 20 to 25 years, ensuring long-term performance.
Q3: Can I install solar panels on any type of roof?
A3: Solar panels can be installed on various roof types, including asphalt shingles, metal, and tile. The condition and angle of your roof will be assessed to ensure compatibility.
Q4: How much maintenance do solar panels require?
A4: Solar panels are relatively low maintenance. Periodic cleaning to remove dirt and debris and occasional inspections for damage are typically all that's needed.
Q5: Do I need battery storage with solar panels?
A5: Battery storage is optional but highly beneficial. It allows you to store excess energy for use at night or during power outages, increasing your energy self-sufficiency.
Q6: Can I go off the grid with solar panels and battery storage?
A6: Yes, with the right combination of solar panels and battery storage, it's possible to go off the grid entirely and rely solely on solar energy for your power needs.
In conclusion, solar power panels and battery storage systems are transforming the way we generate and use electricity. They offer numerous environmental and financial benefits, making them a wise investment for homeowners and businesses alike. With the right installation and maintenance, solar power panels and battery storage can help you unleash the full potential of solar energy, providing a clean, reliable, and sustainable source of power for years to come.