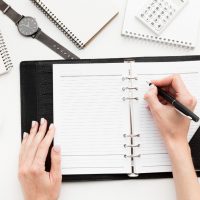 Within the world of promotional products, there exists a powerful duo that not only effectively conveys your brand but also adds a useful element to your advertising endeavours.  Enter the realm of "Brand Harmony" with promotional notebooks and matching pens. This innovative combo goes beyond just employing a writing instrument and stack of paper to create a cohesive identity for your business.
Picture this: a sleek, customised notebook that proudly carries your logo, paired with a pen that complements its style. It's not just stationery; it's a statement. Promotional notebooks with pens create a tangible connection between your brand and your audience. Every time someone jots down notes or sketches an idea with that pen, your logo is right there, making an impression.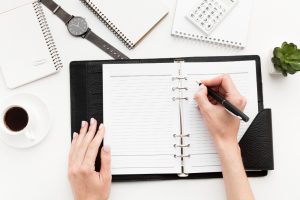 The beauty of "Brand Harmony" lies in the seamless integration of your brand elements. The personalised touch of having your logo on both the notebook and pen creates a cohesive look that's instantly recognisable. It's like a mini brand ambassador, silently spreading the word about your business with every stroke of the pen.
But it's not just about aesthetics. The functionality of promotional notebooks with pens adds a practical dimension to your promotional efforts. People use notebooks every day for various purposes – from meetings and classes to personal journaling. By providing them with a high-quality notebook & a reliable pen, you become a part of their daily routine. And that's the key to effective marketing – being present in the everyday lives of your audience.
Moreover, the quality of the promotional products matters. A well-crafted notebook paired with a smooth-writing, personalised pen elevates the perceived value of your brand. It reflects that you care about the details and are committed to delivering excellence – qualities that resonate with customers.
These promotional products become more than just items; they become keepsakes. People tend to hold onto quality notebooks & pens, creating a long-lasting impact. Your brand, imprinted on these everyday essentials, becomes a constant companion in both personal & professional spheres.
The "Brand Harmony" of promotional notebooks and matching pens extends beyond traditional marketing. It's a conversation starter. Imagine handing out these personalised sets at events or conferences. It's a meaningful gift that creates connections, not just a freebie. Receiving a well-designed notepad and pen from your partners, clients, or prospective customers fosters a favourable link with your business.
In the digital age, where screens dominate our attention, there's a nostalgic charm in putting pen to paper. Promotional notebooks with pens tap into this sentiment, offering a tangible break from the digital noise. They provide a quiet moment for reflection, creativity, and genuine connection with your brand.
And let's not forget the power of versatility. Whether you're in the corporate world, education sector, or creative industry, promotional notebooks and matching pens adapt seamlessly to diverse settings. They become versatile ambassadors for your brand, effortlessly fitting into various lifestyles and professional environments.
Overall, the magic of "Brand Harmony" lies in the thoughtful pairing of promotional notebooks with matching pens. It's about creating a visual symphony that resonates with your audience on a personal level. These aren't just promotional products; they are tools that weave your brand into the fabric of everyday life. So, consider the impact of this dynamic duo as you embark on your next marketing journey.